BEYOND YOUR LIMITS
TANDEM PARAGLIDING IN VAL DI FASSA
Fly with us in tandem paragliding in Val di Fassa
Imagine how it could be to take off in a tandem paraglider with a simple run: the glider rises behind you and in a blink of an eye you find yourself flying up in the sky. No engine, no noise, just the flow of air on the wing in an incomparable and breathtaking scenery, that only Val di Fassa's Dolomites can give you. Come and try a tandem paragliding flight with us.
SUITABLE FOR EVERYONE
It doesn't matter if you have already flown or it is the first time, Fly 4 Fun offers various types of tandem paragliding flight, from gliding to distance.
WE FILM YOUR FLIGHT
With our GoPro Full HD cameras, we film your paragliding flight in the Dolomites. You just need to request it to your pilot before taking off.
MORE PEOPLE AT THE SAME TIME
Do you want to fly with your family or friends? With Fly 4 Fun your dream becomes true!
Several people can fly with us at the same time.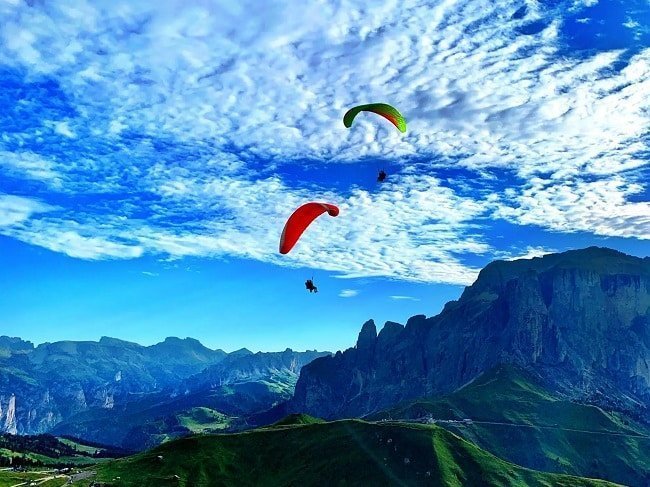 Val di Fassa: the best flight area for tandem paragliding in the Dolomites.
The two-seater paragliding flights we propose you take place in the upper Val di Fassa, specifically in the area which extends between Campitello and Canazei. In fact, we are lucky enough to fly in the most famous area of Italy, considered to be an amazing attraction for pilots from all over the world who learn to paraglide in the Dolomites. The location of the take-off is Col Rodella, at 2400 meters, and it can be reached with the cable car, which is called the same, in Campitello di Fassa. As soon as you get off the cable car, you immediately realize about the paradise around you. For example, the Sassolungo group stands out frontally with its 3181 meters high.
Then on the right, with the Sella group in the background, you can already see the grassy lawn who serves as a launching pad for tandem paragliders. Looking around, you can also see the Sella pass which forms the border with Val Gardena, the Pordoi pass with Arabba and Livinallongo, the Fedaia pass at the foot of the queen of the Dolomites, the Marmolada. Finally, further south west, the Val di Fassa turns into the Val di Fiemme, with the entire long mountain chain of the Lagorai. In a word… gorgeous! What are you waiting for then? Discover what types of tandem paragliding flights our pilots can offer you.
Paragliding in val di Fassa
Our flights
So now it's your turn, you can decide between the four types of tandem paragliding flights below. Paragliding flights at sunrise and gliding flights are the most suitable for those who have never flown paragliding. Since these are the quietest flights, they generally take place at sunrise and in the first available times when the updrafts are still weak. Long and distance paragliding flights are generally recommended for people who have already flown tandem paragliding, as they are done during thermal activity times (from 10am onwards). In fact, these types of flights require that the sun has already warmed the ground and activated the thermal activity, which represents our engine in order to lift up in altitude and make us be able to move from one mountain to another.
Sunrise flight
Gliding flight
Long flight
Distance flight
Paulina Oleinikova
2022-02-16
It was a great experience to fly over the mountains. Amazing views and incredible feeling during the flight. Thanks for Gabrielle for this.
Adrian Pantiru
2021-09-06
Alessandro Aloisi
2021-06-01
Bellissima esperienza!! Massima professionalità e competenza! Il mio pilota mi ha fatto subito sentire a mio agio e mi ha guidato per tutto il volo in modo da farmi vivere la miglior esperienza possibile. Consigliato!
Mariana Ciobanu
2021-05-17
Niente da dire se non FANTASTICO. Esperienza di per sè bellissima se fatta con la giusta giornata di sole, ma è stato ancora più bello essere a contatto con persone esperte e letteralmente "di cuore". Gentili, simpatici, super disponibili e professionali che hanno spiegato il tutto, dal lancio (con le dovute misure di sicurezza) al paesaggio circostante. Esperienza meravigliosa, consigliato a tutti.
Florentina Ciobanu
2021-05-17
Tutto fantastico! I ragazzi sono stati gentilissimi e super disponibili. Nonostante la neve sono riusciti a farci provare quest'esperienza bellissima. Prossima volta farò il volo lungo. Consiglio a tutti di provare!
Andrea Sartori
2021-05-01
Fantastica esperienza, personale qualificato gentile e preparato. Tutto organizzato benissimo! Bellissima esperienza assolutamente da provare se si passa per la val di Fassa! Consigliatissimo!!!
Esperienza fantastica, volo in termica di oltre 40 minuti con un panorama mozzafiato! Un grazie particolare a Nicola per la sua professionalità e la sua disponibilità. Consigliatissimo!
Massimo Aloisi
2020-08-22
Come 1° esperienza di volo in Tandem, direi che è stata fantastica! 🤩 Per godere al massimo il favoloso panorama della Val di Fassa consiglio vivamente di fare questa esperienza. Grazie Nicola! 😄👍
Daniele Bellagamba
2020-07-22
Esperienza spettacolare.. Persona favolosa... Un super volo in tandem con Gabriele... Sicuramente consigliatissimo e da ripetere
Un esperienza memorabile!!!!! Pazzesca!!!! Merita di esser fatta più volte. Ancora grazie a Gabriele!!!!!
Paragliding in val di Fassa
FLYING A TWO-SEATER PARAGLIDING IS SIMPLE
NO KNOWLEDGE OF FLIGHT IS NEEDED
Just contact us and we will take care of everything at Fly 4 Fun. Depending on the season, clothing varies. For the winter we recommend ski-clothing, while for the summer, wear the clothes you would wear as if you were going for a trip to 3000 meters.
SHORT BRIEFING
As soon as you arrive at the launching pad, a short briefing will be given which explains the behavior to follow during take-off and landing. Nothing complicated: the pilot will harness the passenger, give him the helmet and provide a brief explanation on the modalities of the race. Well, in a quick moment we're airborne. Now enjoy the journey and don't worry about landing. We will explain how to do it in a while and it will be very easy.
JUST FEW METERS TO THE LANDING
There are no particular things to do: just remember to lift your legs up in front of you. We will land on our backs, protected by the padding of our harnesses. Simple right? See you in the air!
WHAT ARE YOU WAITING FOR?
COME AND EXPERIENCE THIS FANTASTIC EMOTION
Paragliding in val di Fassa
Our pilots
Even when we fly on our own, we have fun, but paragliding in Val di Fassa can offer many satisfactions and we would like to share them with you.
Punta Penia (Marmolada) to Tofane, Pelmo
Gabriele, Stefano and Nicola
Punta Penia (Marmolada) to Sassolungo
Landing in Marmolada after a paragliding flight
Where do you find us
ADDRESS
Via pent de sera
Campitello di Fassa
Italy
OPEN ALL YEAR ROUND
For any doubt or to request any information, you can fill out the form at the bottom of the "Flights and prices" page